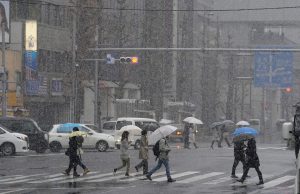 Heavy snow in the forecast for Tokyo area from Jan. 22-23
THE ASAHI SHIMBUN
Snow may accumulate in Tokyo and surrounding areas between Jan. 22 and 23, possibly wreaking havoc on public transportation during the heavy commute, according to the Japan Meteorological Agency.
The agency said coastal areas of the Kanto region and elsewhere on the Pacific side of Japan will see snow or rain starting on Jan. 22 due to a strong low-pressure system.
Heavy snow is expected for mountainous areas of the Kanto region, as well as Yamanashi and Nagano prefectures.
The southern part of the Kanto Plain, including the capital and the metropolitan area, may see an accumulation of snow as well, according to the agency.
The agency warned of a possible disruption in public transportation systems due to the snowfall.
(People walk on a crossing in Tokyo, Monday, Jan. 22, 2018. Metropolitan areas braced for snowfall Monday with the Japan Meteorological Agency's warning of traffic system disruptions. (AP Photo)