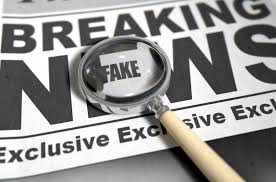 Fake news: What exactly is it – and how can you spot it?
"Fake news" was not a term many people used 18 months ago, but it is now seen as one of the greatest threats to democracy, free debate and the Western order.
Fake news is a type of yellow journalism or propaganda that consists of deliberate misinformation or hoaxes spread via traditional print and broadcast news media or online social media. It's written and published with the intent to mislead in order to damage an agency, entity, or person, and/or gain financially or politically, often using sensationalist, dishonest, or outright fabricated headlines to increase readership, online sharing, and Internet click revenue.
It's Donald Trump's favorite term and named 2017's word of the year, raising tensions between nations, and may lead to regulation of social media.
So the next time you watch and read the news, be more attentive and focused to know if the news is real or not.
Source: https://wwwtelegraphcouk/technology/0/fake-news-exactly-has-really-had-influence/